John Kason: Certified Financial Planner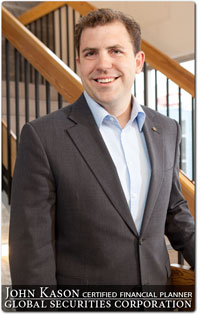 For  personalized needs analysis, a second opinion,  information on current market conditions, or  book as a guest speaker please contact me, John Kason.
Toll Free: 1-866-614-0111
Direct: 1-250-961-5157
E-mail: jkason@Globalsec.com
As a full service investment advisor with Global Securities, I provide clients with access to all the tools necessary to enhance wealth. My team does this by getting to know your situation, discussing your investment options, providing access to all financial products and making recommendations which will be based solely on your personal investment needs and goals.
My family and I have been in Prince George for over 20 years and I am active member of the community as a mentor and educator.  I have over the years become a regular contributor to both CBC radio and CBC Online and  CKPG TV/ Radio.  My involvement with Junior Achievement  includes semi annual week long financial training for School District 57.  I have conducted extensive "retirement preparation" seminars for Canfor, Mackenzie division,  multiple classes for the  College of New Caledonia in areas of retirement planning, investment planning, and financial awareness for the Prince George Cougars.  With CNC I  have also had the privilege to provided economic development and entrepreneurial training  in Prince George and in the Russian far east.
Please take a moment to familiarize yourself with the benefits of working with and advisor who is a dealing representative and  in good standings with these important and valuable organizations:
As an Investment Advisor with Global Securities Corporation, a full service brokerage firm, I am able to offer a wide range of investment and financial management options.
Brokerage Services
Severance Plan Analysis
Estate Planning
Personal Finance Planning
Business Planning
Regular Review
Employee Share Purchase Plan
Investment Offerings
ETF's
Mutual Funds
Bonds
Stocks
Commodities
Corporate Financing
Currency Forex
TFSA
RIF
GIC
Severance Packages
RRSP
Seminars
We provide unbiased  informational training and coaching seminars which are personalized to your group, subjects include:
Defined Benefit Options and Planning
Defined Contribution Plan Options and Plans
Retirement Planning and Budgeting
Severance Options and Planning
Understanding Risk
Wealth Creation Strategies
Creating Tax Deductible Mortgages
Exchange Trade Fund Basics
Tax Planning Strategies
Estate Planning
For a free personalized needs analysis, second opinion, or information on current market conditions, contact me, John Kason.
Toll Free: 1-866-614-0111
Direct: 1-250-961-5157
E-mail: jkason@Globalsec.com